June 10, 2022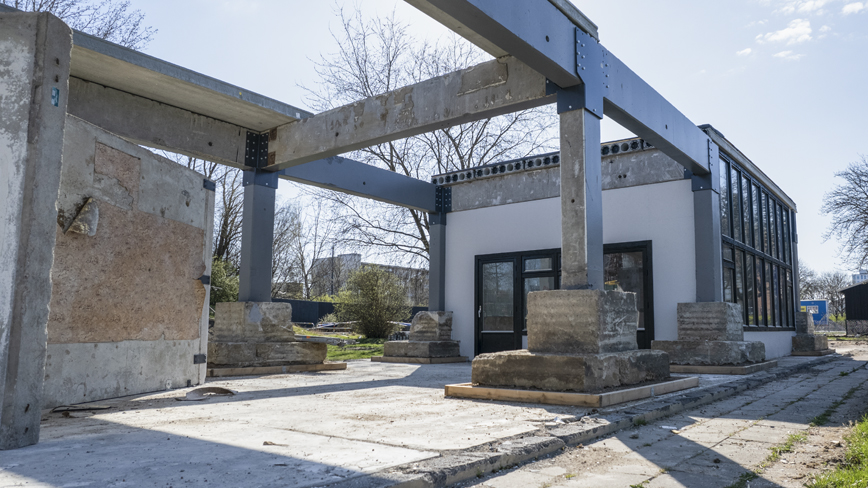 ---
In the middle of Drottninghög, researchers from KTH are building a pilot building in the form of a pavilion from recycled concrete. The building is part of the H22 City Expo fair, which takes place between 30 May and 3 July.
The building stands on a plot where a preschool previously stood. KTH researchers have been able to use the base plate from the preschool for the building, which is 8×22 meters wide, 4 meters high, and consists of a few hundred tons of concrete. The building consists of 99 percent recycled material.
"The production of new concrete is very resource-intensive and accounts for 3-4 percent of the world's total carbon dioxide emissions. By using recycled concrete in new buildings, emissions could be radically reduced. Our calculations show that by using recycled concrete in our pilot, we get a reduction of the carbon footprint by 96 percent compared to if we would have used new concrete. So this recycling of concrete points to a way forward.
Today, office properties are demolished from concrete that is perhaps 40 years old to make room for new homes. But that concrete has a much longer technical life than that, 100, 200, maybe up to 300 years as long as it is hot and dry. And if we are to access the carbon dioxide consumption in new buildings, we must have access to these heavy concrete frame elements." – says Erik Stenberg, professor at the KTH University.
EU project on recycling of concrete elements
Professor Stenberg also leads the Swedish part of the EU project ReCreate – Reusing Precast concrete for a Circular Economy – whose purpose is to investigate how to reuse concrete elements in new buildings. The project, which is funded by the EU's Horizon 2020 program, is led by the University of Tampere and the initiative also includes Eindhoven University of Technology and Brandenburg University of Technology.
Within the framework of the project, all four participating universities will produce two pilots – one digital and one physical. Unlike Tampere, Eindhoven and Brandenburg, KTH started with the physical pilot, the one that is now shown in Helsingborg, and will then make a digital one. The three partner universities' first digital pilots can be viewed in the form of 3D-printed models of each donor building in KTH's pavilion pilot.
There will also be descriptions of the various projects. But the exhibition's focus is on Helsingborg and Drottninghög. Among other things, we present a project on recycling concrete in Drottninghög that some of our students at the School of Architecture worked on last autumn, says Erik Stenberg.
Challenge for architects
In addition to his role as leader for the Swedish part, he works with historical analyzes and a mapping of where concrete elements are, when and where they were built, in what form, by whom and for what. Two more KTH researchers are involved in the project – Kjartan Gudmundson from the Department of Sustainable Buildings and Tove Malmqvist from the Department of Sustainability, Evaluation and Governance, SEED.
Kjartan Gudmundson looks at issues such as quality assurance – concrete quality and the presence of hazardous substances – and digitization of historical and new information about concrete elements that can accompany them when they are used again, while Tove Malmqvist works with issues such as life cycle analysis, climate impact, business models, and regulations.
---