March 1, 2023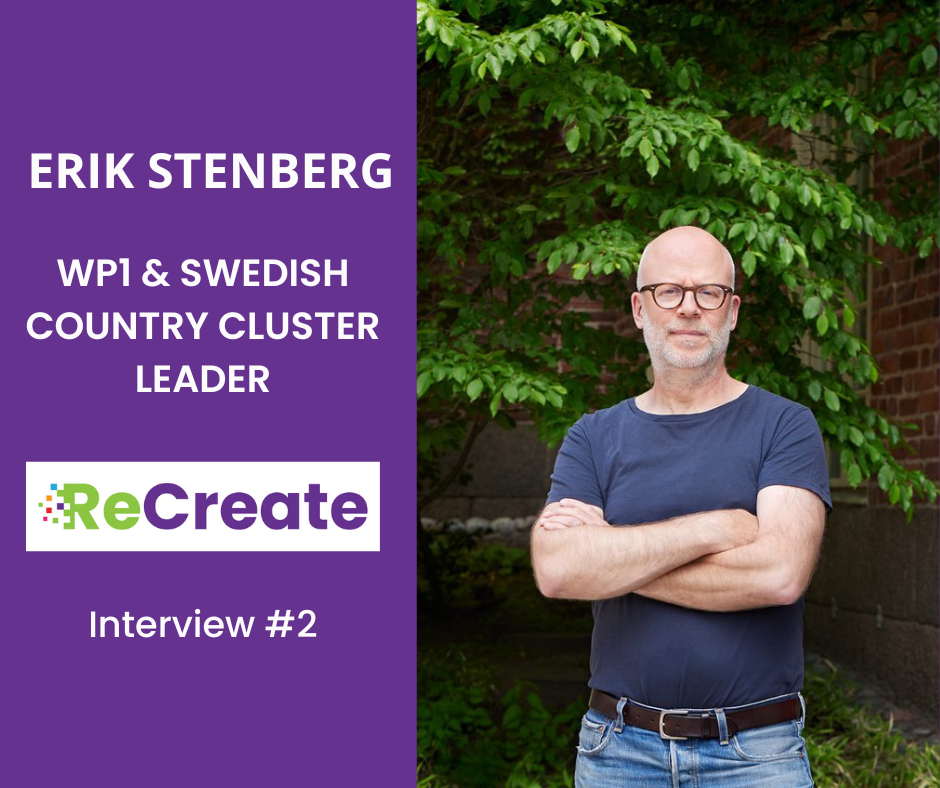 ---
The success of the ReCreate project would not be possible without the expertise of people that stand behind it. Our second interviewee is Erik Stenberg – Work Package 1 leader and Swedish country cluster leader. Ivan Fratrić of the Croatia Green Building Council will be conducting the interview. Here is his story:
I: Hello Erik and thank you for doing this interview! For starters, can you introduce yourself a bit and describe your role in the project and your organization?
E: Of course. I'm an architect and an associate professor at KTH Royal Institute of Technology in Stockholm, Sweden and I have a history both as a practicing architect and a teacher I've been (for the last 20 years or so) working especially on housing from the post-war period in Sweden and I've specialized in prefabrication system in concrete which was used in mass housing during the period from 1965. – 1974. in Sweden which was called the Million program era and how we renovate and update those housing areas. I work a lot with issues concerning sustainability and also technology and history. In ReCreate, I'm the Swedish country cluster leader and I'm also the Work package 1 leader.
I: You've mentioned that you have experience with sustainability – can you maybe tell me more about what made you inclined to join the project?
E: There were a couple of major reasons. One of them was to work and collaborate with Satu Huuhka who is an amazing person and researcher so that was very enticing in itself because she's such an authority on the subject in Finland and has strong connections to Sweden and these other countries. The other one is following the trajectory of my interests and seeing prefab housing from the post-war era from yet another angle and as something positive or in other words as a resource and not something expensive to upkeep and generally as something bad. This is another way to describe the incredible effort of the post-war era and to test it on a 1:1 scale. Basically, I want concrete to be seen as an asset and not a liability. In every sustainability discussion today, concrete is always looked at as a liability – it's too expensive to make in terms of carbon footprint, it represents a period in history where we were mass-producing housing and we have several words in Sweden when you add concrete or grayness it immediately has negative connotations. This project provides a way to turn that around and see concrete as an asset, as something positive, especially by using high-quality concrete we made in the '50s, 60's, and 70's, we can now also lower the carbon footprint of new construction through it.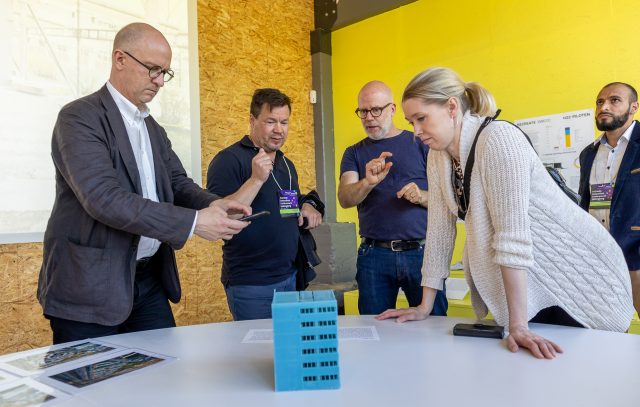 I: Moving toward the Swedish pilot and the project itself. Can you shed more light on how you collaborate with other partners in your country cluster?
E: Sure! There aren't many of us in the Swedish country cluster. There's Helsingborgshem – a municipal housing company and Strängbetong – a material producer of concrete and KTH. The situation is a little different here in Sweden with regard to the pilot building. Helsingborgshem already has a long-term project on rejuvenating a housing area called Drottninghög, which is a typical post-war massive housing area with 1100 units of housing that are very similar and all built within the same 5-year time span. Now, that area has a weak socio-economical development and they have engaged in a long process of dialogues, they have changed zoning and are even producing new housing. The goal is to increase the number of housing from 1100 to 2600 units by 2030. To do this, they are tearing down some of the original housing which is prefabricated. When I approached them I said to them not to just crush the concrete, but to join the ReCreate project and see how we can actually reuse the concrete – both to provide a better history and a new story on the panels so they are not seen as something bad, but as something good and we also test new ways of sustainable construction. They agreed to this and have actually had a city-wide movement to have a city expo. It was in the spring of 2022. We had a very short time to do a physical pilot in the Swedish country cluster, but with the help of Strangebetong, we managed to build a small physical pilot as an exhibition pavilion for the H22 Expo. We tested the whole process in a physical pilot so we can make a digital pilot which is more precise and better but aimed at the future development of Helsingborgshem's Drottninghög housing. This is the opposite of some of the other country clusters because we're first working on a digital pilot to then prepare a larger, physical one.
I: That being said, one can presume that there were no issues with getting everyone on board for the project and that they were quite motivated to join the project and were sold on the idea of it.
E: They were. But again, it's important to stress that we (the Swedish country cluster) consist of a few members. Part of it can be attributed to the fact that we have the municipal housing company as one member and they have to follow the rules of procurement so we could not have other partners join the team before we went through the process of public procurement so as we build the physical pilot and went through all of those stages we also engaged the construction company and other architects and engineers.
I: Returning to you – do you have some kind of internal motivation for the project? Something that intrinsically motivates you?
E: Of course! I've touched upon it earlier and I can say that it's definitely the high regard for post war housing in Sweden, a subject I have been working on for the last 25 years. That is a very strong driver for me. The other driver is sustainability in the construction sector. As architects, we have to become much more knowledgeable about what the climate impact of what we're designing. I think that's where reusing really opens up an avenue where it's not just about the regard for historic buildings but also how we produce new buildings with a lower climate impact and also a great architectural design.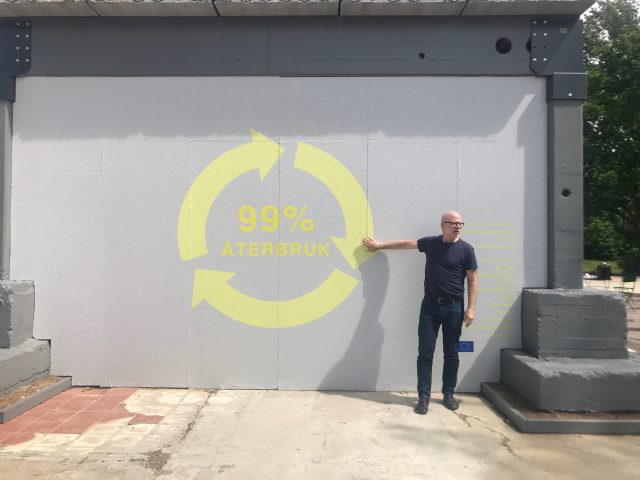 I: On a broader scale, can you describe why the ReCreate project is important from your perspective and what you see as its ultimate goal?
E: The project is important because it aims to reduce both the carbon footprint and the waste of the construction sector. These are two huge that we have. As a goal – I think if we can provide the tools, methods, and examples to cover some of the value chains, then we will have come a long way in the four years of the project.
I: That's something that I also want to touch upon a bit further. So the project will last for four years and will officially end sometime in 2025. How do you see its progression after its official conclusion? What do you see as some of the hindrances of its uptake and what are some of the challenges it will be facing once it is over?
I think the business sector will move very quickly with many of these new findings and with the findings other projects are making. In a few years, I think there will be a few business models in action which will continue after ReCreate. I hope to see that there will be more pilots after the project. Those are some of the short-term effects. In the case of long-term effects – I hope we're also starting to set in motion the way we educate architects and engineers to deal with existing buildings, the way we value the existing building environment in planning processes, the way that we set up future research projects to include reuse in the existing environment. Those are outputs that are just as important, but we won't see them immediately. Redoing education for architects for instance can take decades. Those are the things that we contribute to ReCreate, but are not yet tangible as of this moment.
I: The process will definitely take time. This will also be a more personal question in that regard – do you think that we have the time for such a steady transition while also having the pressure of encroaching negative effects of climate change? Basically, what I'm asking is whether you have a positive or negative outlook on our chances of succeeding in "saving ourselves" from climate change.
E: Well I'm very positive that we won't meet the 1.5-degree goal by 2030. But I have a very positive outlook with regard to the engineering and architecture sector. I think the construction sector is in for a major change but we have faced these challenges before. Maybe not on the same scale and with the same level of threat, but I still think we will be moving ahead with that change even though we won't meet the climatic goals and we won't reduce the waste at the EU level fast enough. We won't solve the problem in four years, but that is something that we need to do for the construction and demolition sectors regardless. We need to contribute and work as hard as we can.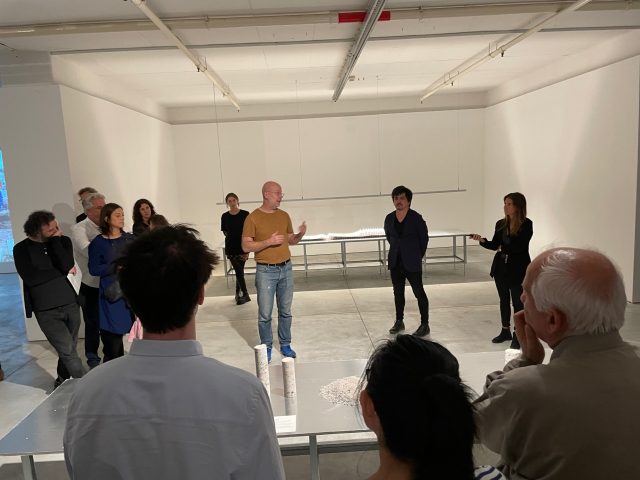 I: Of course. Especially if we look from the global perspective and when you take into account emissions coming from elsewhere. We definitely hope that the findings we produce with the project will be recognized by the market.
How do you find collaboration with other country clusters and other partners on the project? Do you find it challenging or do you find it exciting to work with experts from other countries?
E:  Of course, it is a huge benefit. When counting the country clusters and Croatia, there are five different countries in the project. The benefit is also present in terms of the multidisciplinary approach of the project. At KTH, for instance, we have three different departments engaged. It's very easy to fall into working with colleagues within the same department because those are the ones you see every day and they don't really challenge your knowledge boundaries. This is really one of the bigger benefits – working with building sciences and the environmental department, as well as the architecture department, we actually have just as exciting discussions here, let alone with colleagues from other countries. It's not difficult to work with an expert from other countries at all as they are all highly knowledgeable, highly engaged engineers, architects, and researchers. The companies have been really interested. When we had the annual meeting in Helsingborg where it was 40-50 people, we could have easily spent days in smaller meetings just discussing our work. I've been part of difficult research projects and this is definitely not one of them. Maybe in its scope, not in terms of people working on it.
I: Of course! When you work with highly motivated individuals, where everyone is an expert in their field, it can garner special results.
E: I would just like to add that this can most definitely be attributed to the way the project was written and the way it is led. The team around Satu Huuhka is doing a great job.
I: Agreed, definitely agreed. Let's think about the future for a bit. We talked about the market uptake of the project results in the future – do you have some other impact that you would like to see 10, or 20 years down the line? For instance architects – do you think they will have enough creative range for new buildings?
E: I think so and I think this is quite intriguing. The reason I think so is because we have tested it in a design studio in project similar, but not attached to ReCreate. We tested the design with the reuse of prefabricated concrete panels and the students were a bit confounded at first because they are not educated to deal with them. But once they figured it out and understood the limitations they have, they could all devise a strategy or method for using the elements and many of them involved finding new forms or shapes or details of the buildings, which is directly attributed to the reuse of the panels. So they were shifting sizes of the panels, which left gaps or there were structural dimensions that led to certain rooms, sizes, or proportions. There were ways of combining elements that led to also different heights and widths of the buildings. All of these things may seem minor, but I think they are quite important. Now I'm wondering about if whether this is something that just happens in this type of shift or whether it is going to be a reuse style in the end which you can then understand that this is high-quality architecture because it is using reused elements and not because it has a certain color or look or proportion.
I: That's something we will see with time. How the creatives will utilize it and what they will create down the line. With that in mind, do they have to deal with any technical constraints when reusing precast concrete elements?
E: Yes (laughs). From a technical and engineering perspective there are several issues, but I think that we have enough pilots now historically and Satu knew this when she was writing the project. There have been enough pilots in Germany and even in Sweden and we know that concrete has a longer material lifespan than a building has a socioeconomic lifespan. Cities are being developed and office buildings are being torn down to make room for housing and vice versa. The material can be reused but rules, regulations, financing, and business models is not adapted to this yet. So these are the big technical challenges that are not on the material side. Then, of course, there's the whole question of knowledge. We're not educated to deal with the existing environment and now it takes a lot of time to work that way, but in the future, we hope it will take less time.
I: Once the knowledge enters the curriculum, the dissemination of the knowledge should be more efficient. Actually, that is something I want your comment on – do you see the curriculums changing? Will there be some kind of specialization for reuse in that regard?
 On a general level, I think we're seeing small research groups, and small parts of programs being adjusted towards sustainability issues and global climate change is the main driver behind the changes, but the ideas involved in ReCreate can influence them. One example is the Royal Institute of Art in Stockholm which opposed graduate degree in restoration architecture because they started a new program this year in restoring the recent past – the modernist heritage. They are actually starting a new program to engage from a building conservation and preservation perspective, and from a heritage perspective to garner a better understanding of the recent past. We're not seeing that in architecture schools on the curriculum level yet, but we'll see it, albeit as small changes.
I: So it is possibly still too early to talk about it. The changes might be incremental, but not paradigm-shifting.
E: I agree. I think there will be incremental changes, although the climate is screaming for a radical change
I: You were present at several architectural events where you represented ReCreate. What was the reaction from your peers and what kind of feedback did you receive from them?
E: Well, they are following ReCreate with great interest. For example, at the Lisbon Triennale we not only exhibited but I was invited as a speaker and when I held a presentation, part of it was about the content of ReCreate. It was received with great interest from all architects. We had architects from both North and South America, Asia, and Australia – almost all the continents were represented. They were all interested in the topic of Terra (the Earth) and different angles on sustainability and I would say it was a surprising and positive engagement with the ideas that I presented. It's very positive. I usually try to lower expectations because the truth is that currently the rate of reuse in Europe is 0% and the goal is to move to 1% or 2%. Some people might think that we'll have 50% of new buildings being made from reused materials 5 years from now but that's not going to happen.
I: Understandable, but the proof of concept is definitely here and it's definitely exciting.
E: Yeah! I was wondering how the architectural community of exhibiting architects, not just constructing architects, would react to the subject of reuse, but I have found that it was indeed highly regarded.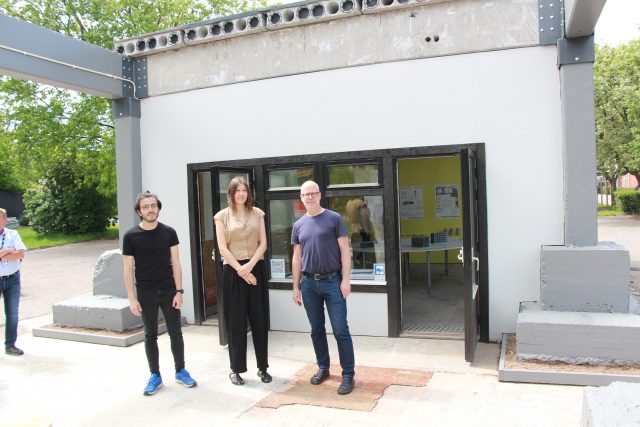 I: And they will certainly one day be a valuable part of that process. It's a vast and long value chain of stakeholders and architects are certainly one of the more important parts as they will surely be one of the driving factors behind the uptake of reuse.
E: The exhibit in Lisbon was part of an overarching theme was 'Terra' and the exhibit we participated in was called 'Cycles' the curator Pedro Alonso from Chile and his partner Pamela Prado made a great selection of different academic professional practices and 15-17 practices that are all working with cycles in their daily projects. So ReCreate was shown among others. We have lots of friends out there and in that group, ReCreate was seen as very hands-on and that can have a very strong impact, which is because of the prevalence of prefabricated concrete as everyone is aware that it is being used all over as a resource.
I: Of course and it can certainly be deduced (even to the wider public) that the project can create great impact, it is very tangible and it can be pitched very easily to other people, which is why it is so widely acclaimed. Working on it can feel like being on the cutting edge of something really important.
E: Yes, exactly!
I: We're nearing the end of the interview and thank you for your time, Erik. Do you have any closing comments or something you would like to mention with regard to the project?
E: I would just like to stress the collaborative aspect of the project. The EU projects are set up in such a way that you have to collaborate with partners from all over Europe and even across disciplines and I think this one is really critical because the effort to move towards increasing the amount of reuse will need experts from many different areas. It's not just inventing a new material, putting it on the market, and seeing what happens, but this is about shifting a paradigm and moving the construction sector into a circular movement and we're contributing towards that.
I: To top the interview off – who is Erik Stenberg when he's not working on the project and what does he like to do in his free time
E: You'll most likely find me in the woods or the mountains – basically far away from any architecture. I spend a lot of time with my family and friends in the backcountry, hiking, sleeping in tents, and walking across low mountains as we don't have high mountains in Sweden. We can move across them easily as there are no dangerous animals, insects, or anything and we have potable water still so it's a great way to recharge batteries from working hard all winter.
I: I also spoke to Satu and she said something similar, which is why I will use the opportunity to ask whether this has something to do with Scandinavian people always ending up on lists of the happiest people on Earth. Do you think this is true or is it overblown?
E: It s a little bit of a cliche but I think there's some truth to it. I spent some time in the US when I was younger and I think the relationship with nature there was that nature is something that you conquer and you put up a fence and you own it somehow, apart from here where the dominant mindset is that we're just borrowing some time from nature to be here and when I go outside the door I'm in the nature, I'm part of nature and I think that, as a mental construct, is something I try to cultivate. When I sit by a blue lake, it's not because I'm interested in meditating, it's because there's some fundamental connection to being part of nature, instead of trying to dominate it, or water-ski. I'm not using the water in that sense. That's an extreme form of affluence and richness. In most of the world, you don't have to time or the money or nature to do that, but we're very lucky in Scandinavia that I can do that. For example in my specific situation in Sweden where I can, for a few weeks a year, just be part of nature and not do anything else.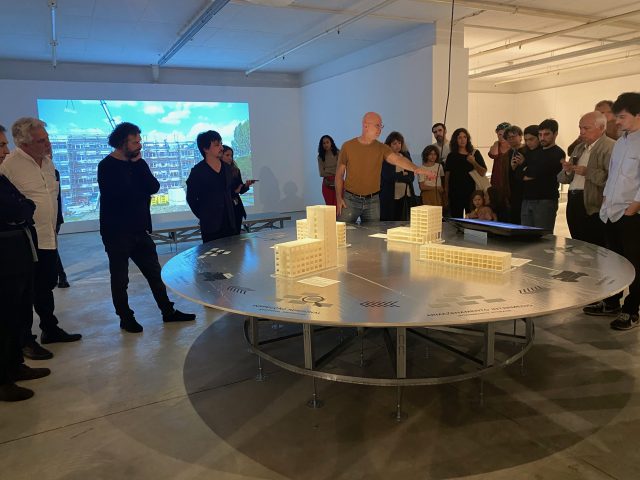 ---